Posted on March 31, 2009
If you need to let parents know about a scheduling change or other important information, you can send an email to all registrants through RegisterNation. From your dashboard or the QuickLaunch dropdown (at the top of every page on the site), click on "Send a Message". You'll see a list of all the messages you've sent and a link to "Send a Message".
Fill out the Message form completely, hit "Submit",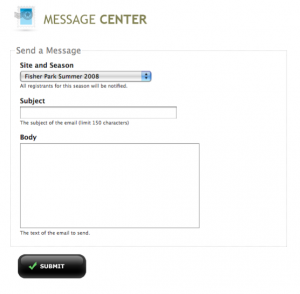 and your email is on its' way. Note that the message will go out to the email address parent's used when they registered– but you can always change this if you need to update their information first.